Chronicles of the Joys, Trials, and Tribulations of Owning and Maintaining a House and a Pond
This will be a rambling recap of what has gone before, and a semi-up-to-date account of current events in the land-based lives of the Webcaptain and Ladysailor. Mostly so we can remember what the heck happened here!
Overview
The House:
Purchased in the summer of 2005, rehabbed just enough to become livable in the next 2 months, further improved the following summer with a second-story deck, new roof and gutters, and pond where the swamp was, this house has never been occupied by it's current owners in the winter. We were spending the winter in Mexico on our boat, and hoping all was well while we were gone. Thanks to a couple who rented the place the first winter, and our pal Buck who lives here full time now, there has always been someone here to keep an eye on it. This year it will be our eyes as well, since the boat is now in the southern hemisphere, and hurricane season is their summer, our winter. We'll return to the boat in Fiji April 28, 2008.
The big plans for this winter are to finish the downstairs into living space. You see, the man who built this place back in the 1940's was a plumber, and he built a two storey house so he could live upstairs and work downstairs. His old workbench and pipe vise are still down there, along with all the exposed studs, plumbing and wiring. We sprayed for dry-post boring beetles and other critters today, and this week hope to start hanging insulation and drywall down there, section by section. We will plumb in another bathroom down there, as well as a full kitchen, and with a ceiling and floor covering, it'll be just like a small apartment down when we're done! May even rent it! We still have to get rid of mucho junk-o, though, just to be able to work down there, so that will remain job #1.
Interestingly enough, yesterday I took pics of the unfinished windows and doors, and today they're getting done...will post the "after" shots in a day or two. Looking good so far.
12/6/07 The Christmas lights are up on the house, and now on the web site, and today the tree will go up. Buck has been a champ getting the drywall all filled in and mudded up in the interior around the doors and windows, and paint and trim will appear soon, in time for Christmas, yay. We're going to try to get insulation and drywall up in the "bedroom" alcove downstairs before Christmas as well, so somebody can sleep down there in relative comfort. You know, we try to make even relatives comfortable...ha ha ha. That reminds me, I better get off this computer and to work!
The Pond: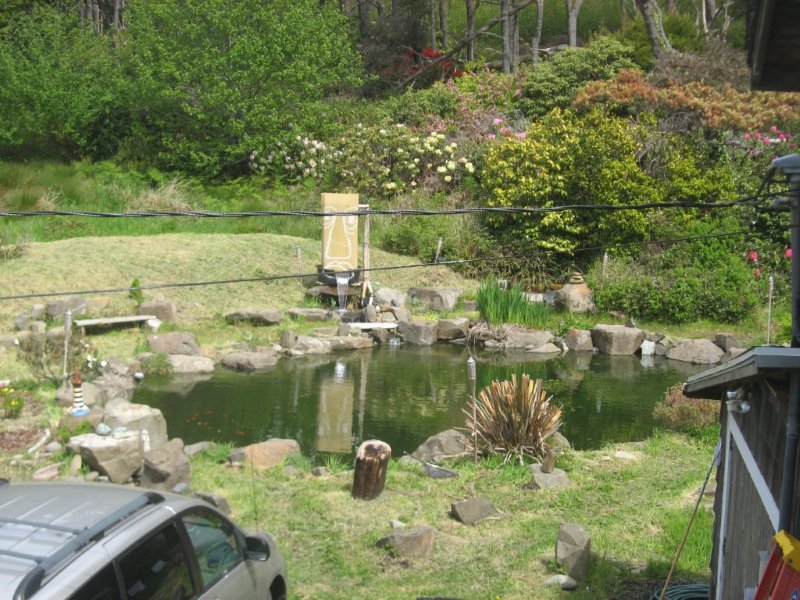 So the pond was conceived as a remedy for swampy back yard, before we realized the swamp was due to an old spring-box that was just left to drain into the yard. When we discovered how much water was actually flowing into that old spring-box (around 800 gallons a day?) we were already bitten by the "pond bug" and couldn't wait for it to be dug and filled so we could begin raising Koi. We were pretty naieve. It surprised us how long the job took and the cost of rocks, liner, pumps, and back hoe time. Knowing what we know now, we could have done alot more of the finishing work digging the ledges, etc, but we trusted our pond-guy Robert, and he did a hellovabangup job. He talked us out of that landscape fabric that keeps weeds down, though, and I wish he hadn't, because when we returned last week, the pond had been overcome by WEEDS big time. I know our pal Buck did his best to keep them in control, but these Oregon weeds are tough, wiley, and resiliant. Too bad you can't use Round-Up (good weed killer) around the fish without endangering them.
One problem with creating a natural-looking water feature is that the creatures in nature think it's all for them. The nerve of them! The pesky deer and elk think it's their private drinking fountain, the bugs think it looks like a good home, and the #*!@(%$? birds (and raccoons) think the fish are on their menu anytime they get hungry. The latest pest is a Great Blue Heron who thinks he owns the place. Being a member of a protected species has made this guy pretty fearless, and he is young, big and hungry. I'm afraid many of my small fishy pals have become lunch and dinner for him, probably breakfast too. I wish I had a bigger dog...
12/6/07 The slingshot worked- never hit the big ba..ard, but scared him a little I guess. Unfortunately, the damage was done, I fear. Next we got hit with a nice little storm packing 100 mph gusts, and Lake Lacrimose filled up with pine needles, debris, and mud, so we'll never see any fish anyway for awhile until it clears. I did make a basket out of screening to keep stuff out of the recirculating pump, so the water is getting well aerated at least.
Another, more recent take:
It was the summer of '06 that we decided to confront the swampy back yard and try to find a solution for it. The thought of a pond had crossed my mind, but when I chopped my way through the huge blackberry thicket and discovered the old springbox that used to supply water to the house in the old days it was decided. Since we still had a good house rehab budget, and convinced ourselves it would be a good investment (hahaha), all we had to do was find somebody to dig a big hole for us and we'd be in business! We found Robert Holland in the phone book, and he told us he had a "vishz" and we could have the pond of our dreams for 10 grand all up. For some reason we trusted this guy and he didn't let us down. I kind of wish we'd gotten a bottom drain, but not having to worry about leaks there is a good thing.
So after a couple of years of pretty much ignoring the pond while we sailed around the Pacific, now in '09 we're here for a year and have started trying to improve our little aquatic environment. We bought a $60 Home Depot sump pump to drain the ditch which has been overflowing onto the lawn lately, and for grins installed it in the pond and hooked a spray nozzle to it to see if the fish liked it. They really got excited about it and started growing before my very eyes, so the next step was to try to make something to filter some of the crud out of the water while adding still more oxygen. Yesterday I bought some lava rock and stacked up some old milkcrates to make a makeshift Bakki Shower, although the flow rate isn't nearly strong enough according to the info online. I didn't quite buy enough lava rock to fill all six crates, so the bio-balls I had in the intake pool went into the top crates. I was hoping if any good bacteria were in the bio-balls it might help the lava rock to get colonized. We'll see what happens, and if it looks good, we'll put the Bakki up where the pool is, and route the main waterfall water through it. The pics show the design development and final prototype in action. There are many more at Photobucket. I'm subscribing to some koi boards to see what I can learn from the experienced ponders. More later.
<Begin Non-sailing Captain's Logs>
Home for the Holidays 12/6/07
Almost three weeks after returning to our non-floating home, we are starting to get used to the non-cruising life again. The culture shock was extreme when we first walked off the plane, after 19 hours of travel time. Everyone was just as they were when we left, and many folks we know only casually acted as if they had no idea we'd been gone for a year! We learned right away not to volunteer too much information about what we'd been up to, because many people just got a glazed expression on their faces as soon as we mentioned "South Pacific", or "the boat's still in Fiji". It's better just keeping it our little secret unless someone is genuinely interested, and very few are.
The house came through our absence very well under Buck's care, and what few situations we didn't care for (like the mess we had left in the downstairs) were quickly and easily remedied. The "pond pets" were doing OK until a Great Blue Heron showed up a few days after our return, and proceeded to nosh on whatever was swimming around. The effect of the new slingshot was much like that of a late barn-door closing, and though the big bird has moved on, there seems to be little sign of fishy life out there. Buddy, on the other hand, is looking better than he ever has, though he is completely bonded with Buck. We decided that's just fine, since we're going to leave again in a few months anyway, and don't want him to have to get over missing us all over again.
Anyhoo, we're hoping Arabella will make it through a cyclone season there at Vuda Point, and when we leave here to return, we're also hoping there will be a finished area downstairs that may bring in a bit of income.
While we're home this time, I think this Captain's Log type stuff will appear in the new "House and Pond" section, and will resume here in early May, when we're back on the boat.
Hope everyone has a Merry Christmas, and the Happiest New Year!
HO HO HO,
Mike, Barb, Buck, and Buddy the House Dog
Life on Dirt
01/10/08
Living in a house on dirt has sure been a treat after a year of life afloat. It's hard to believe it's coming up on two months since our return. Little things that are challenging to accomplish on the boat are so easy here, like doing laundry and getting groceries. It's especially easy getting groceries of all kinds; fresh, good, plentiful and cheap, with no long distance carrying or dinghy rides involved. Booze too, even though Oregon has state run stores for hard liquor. We were used to paying almost $100 for a bottle of vodka in Fiji, and $50 for a box of wine.
So it's no mystery why we sat around and ate and drank a lot at first, while staring at another luxury I'd missed for a year, the Boob Tube. Not to mention enjoying the great views of nature we are so lucky have from this little shack on the dirt we call Casa Fulmor.
Don't get me wrong, we have done some stuff since we've been back. Lots of cleanup and organization mostly, trying to get the downstairs cleaned out enough to get some work done, and the workshop put together enough to use in that pursuit. It actually looks pretty good now and I'm kicking myself for not taking "before" pictures. We're working on getting a line of credit to pay off the credit cards and buy home improvement materials, and it looks like it will all happen. A couple of azalea bushes got transplanted and the pond area weeded to some extent, but the inclement weather has impeded outside work. We've had a couple of doozy storms packing winds up to 60-100 mph knock down lots of trees around us, but the house has been sealed up well enough that we hardly feel a draft.
Christmas was a blast, with daughter Lucy and her soon to be husband Dave, twins Nick and Alex, his friend Sara and my sister Deb joining Ladysailor and I here for a couple of days of feast and frolic.
Anyway, after New Years we cleaned off the treadmill our first renters left behind, plugged it in, and it works! It's a smart treadmill that can run online programs (iFIT.com) and adjust its speed automatically while a virtual personal trainer talks you through a workout. They even have an online diet/meal-plan that changes every day and is very easy to follow. Maybe this will help a fitter, smaller webcaptain to emerge from hibernation come spring.
Have to close for now, Jennifer (my virtual trainer) says it's time for my hike on the treadmill!
Hope your New Year is going well and continues to do so.
Your Temporarily Dirtbound Sailors,
Mike and Barb
Shore-leave Flying By 02/17/08
We flew out of Portland on the 12th, bound for Hawaii and my daughter's wedding. After a marvelous visit with Barb's sister Mary and her partner Barbara at their beautiful 14th floor condo in Honolulu, we came over to Maui yesterday to prepare for the Big Day tomorrow. During our time on Oahu, we managed to tour the entire island, see some major surf at Waiamea Bay (25' faces), visit all four yacht clubs, tour the Maritime Museum, and even enjoy a tiny bit of Waikiki night life. While touring the Aloha Tower area we managed to get a pretty good look at Paul Allen's little 300'+ floatie toy named Octopus, tied up to the pier there. She only had one helicopter aboard, but we were relieved to see another helipad on the forward deck. You have to have a place for guests to land aboard also, don't you?
On a sad note, words could never describe the "progress" that has occurred on the fair island of Maui in the 40 years since the webcaptain has been here. Let's just say there are precious few familiar landmarks, especially here in Kihei where several happy summers were spent at my folks' "beach house". I couldn't even find said house, and imagine it got torn down and replaced some time in those intervening years. I had been warned about the changes here, but nothing could have prepared me for the reality of the place. It makes me think of the old Eagles song about paradise, and what happens when a place starts getting called by that name. Admittedly, the island is still drop-dead beautiful, but it sure is starting to feel like Oahu there.
So tomorrow is Lucy's wedding, then we'll fly home on the 20th to resume our home improvement project. The remaining two months in Oregon will be past before we know it, and the time to return to Arabella will be upon us. Hopefully we'll get our work done on the house before then!
Update 02/19/08 The wedding was as beautiful as you could imagine, set on the beach in a perfect little cove in the Makena area, where we used to go snorkeling in the old days. As they said their vows the sun came around a cloud with that "TA-DA" effect, you know, the rays shooting up and down like God is about to appear... a truly classic moment.
The reception dinner at Sea Watch restaurant was a fabulous "surf 'n turf" with a crab cake appetizer and of course wedding cake for dessert. Today we're going to ask them how in the hell the bill came out $400 higher than they quoted Lucy. Seems kind of wrong, doesn't it?
Anyhow, today we'll tour around a bit, probably go to Lahaina with sister Deb and her friend Virginia, and get ready to fly home- see ya here with another update in a month or so.
Aloha from Maui,
Mike 'n Barb
Countdown to "The Return" 3/27/08
Could it only be a month until we climb back on a silver bird for the gruelingly uncomfortable, interminable flight back to our beloved Arabella? Since they've curtailed direct flights to Fiji from the States, we have about a 10 hour layover in Auckland, New Zealand before we actually get to go to Fiji. Not sure what to do for that amount of time, but hope we'll find something.
Meanwhile, the progress on the house appears less than exciting, although much has actually been done. Despite how it looks, we may yet accomplish something like what we hoped for. Miracles do happen, right? The next few days may actually see those new water pipes actually carry water, and the downstairs bathroom finally become functional. That'd be a biggie, one of those things I'd just never quite thought could happen.
After that, it's just a matter of insulation and drywall, putting together a kitchen, and some kind of floor treatment. Yeah, that's all…
In the midst of all these house thoughts, it's a challenge to try to think about boat needs. I need to hurry up and order some stuff, I'm sure, and somehow figure out how we'll get it all back to Fiji.
We've had some great family time lately, with my kids and sister visiting for an early Easter, and Barb just returning from a whirlwind tour of family and friends in Southern California. Spring is in the air here in Oregon, but we drove through falling snow yesterday in the coast range, so it's not exactly hot yet. Fiji will be shockingly sweaty for us, I'm sure, but at least we will have missed the worst of the heat if we timed it right.
The three new koi are doing well in the pond, and one big heron-survivor has appeared from under the rock, so we have four big guys swimming around. The four little Wal-mart koi are not visible, and may have become food for a seagull; however I'm still holding out hope for them.
So that's about it for now from the Casa Fulmor Koi Rancho, will try to get some pics up today.
Cheers,
Mike 'n Barb (and 'lil Buddy)
Some Construction Progress Pics
The Next Season...
Home at Last 4/19/09
It's been quite a busy and hectic time, but we are finally in our little place at the beach and really enjoying settling in again. This page would have been updated sooner, but the new computer didn't want to accept the old software (FrontPage) and it's taken me awhile to face defeat and dig out an old laptop that still works with it. This computer has outlived the one I bought just before heading to the South Pacific in 2007, so I'm wondering why I ever replaced it.
We had a smooth departure from Bundaberg thanks to our decision to get off the boat the day before our ridiculously early flight left, and stay in a motel across from the airport. The trip was long and uncomfortable, however, and it was a great relief to finally get off the plane 18 hours after we began our journey (only 12.5 hours flying across the ocean, the rest was the hop from Bundy->Brissy and waiting around Brissy) and breathe the wonderful air of LA once again. There was much visiting of family and friends for 10 days or so, then a really quick drive up I-5 in our new-to-us Toyota Sienna. As we dropped down from the Siskiyu Pass, Oregon welcomed us with first a bit of snow, then some rain, and finally, as we arrived at the coast, beautiful clear sunny skies. Since we made it here to Yachats on the 14th, we've had a little rain, but mostly great weather, if a bit colder than we're used to back in Oz.
The downstairs project is looking very good thanks to the ongoing labors of our resident home improvement maestro Buck, and hopefully it'll be really close to done by this coming weekend when everybody comes to see it!
Gotta run now, will try to do an update close to the first of May with pictures and everything.
Fair Winds,
Mike and Barb
So Two Months Went By…6/18/09 Log
What can I say, been busy and also avoiding the Computer Room with it's comfortable chair and certain way of making daylight go away quickly. The same has been true of the Living Room with it's magic box and comfortable couch. I try to walk by fast on my way to do something else. And there are lots of something elses to do around here, that's for sure. Part of my strategy for not thinking about smoking or eating is to stay almost continuously involved with projects, and it seems to be working. Believe it or not, it's been 5 months without a cigarette, and I'm down 50 lbs as well! Easy does it, they say.
So what exactly have you been doing, I hear you asking. Nothing too spectacular, just mowing and weed-wacking, organizing and getting my shop ready for serious production, trying to improve the lives of my small herd of fish through Pond Mods, and of course helping out with the Neverending Project downstairs. There were daily power walks and exercise sessions, then a two-week vacation due to a bout with some flu-like deal, which we're all still recovering from. If it wasn't Swine Flu, it sure did pack a good wallop like it was a little brother. The question now is when to resume the "training" regimen, like "are we well yet?".
The Neverending Project is actually kind of getting close, but I've said that way too many times to actually believe it, or expect anyone else to. The tape and mud process drags out towards infinity, because there is no such thing as smooth enough walls. I wish the upstairs looked half as smooth. With 9 hrs of help from a drywall specialist friend, the bathroom did get ready for paint, so at least that small, but important area will be finished. The kitchen cabinets, sink and stove are all installed, along with the window trim on most windows, so we have actually allowed ourselves to begin thinking of floorcovering options. Maybe by Christmas…
There is a huge batch of my trademark stone, wood and antler creations begun, and hopefully they'll be ready to turn into large wads of cash at the Oregon Country Fair coming up the second weekend of July. Our good friends Dale and Jane will be joining us for a visit Fourth of July, and we're hoping they'll want to hang around for that extravaganza. Our best Mexican buddy Piper Lover is currently visiting friends in Canada, and we're hoping he might come by here as well.
I'm going to have to close now, because the new Bakki Shower I built to help the water quality in Lake Lacrimose (AKA da pond) is in need of service. I have ordered a very expensive state of the art Muck Vac to clean the bottom of the pond, and when it arrives the pond party will really get going. The fish have been energetic and growing like Sumo wrestlers since I got them some more oxygen with the new filter and a sprayer system. Now they poop too much, though, and that creates more problems. The fun never stops here at the Koi Ranch, I tell ya!
Hope all who read this are well and happy, and may the sun shine on your parade!
Love,
Mike and Barb
July Flyin' By… 7/22/09

Log
Hello from the nerve center of the Koastal Koi Ranch, where the men are men, the fish are fish, and the moles are everywhere.
It has been a fun but busy month or so, with several developments. On the home front, the downstairs project has taken a huge leap forward. We have completed all sheetrock, finished and painted, with door and window trim going on. There will be more to do, probably forever, but the greatest bulk of the work is behind us now, and it is looking downright livable down there. Buck is currently in Portland doing some work for his sister, so I have been hanging out a bit down there to see what it's like. It's good! No more dusty, smelly, dark, scary, spider-infested ghosts remain.
On the pond front, the DIY Bakki Shower, along with the new Muck Vac, have finally made the water almost as clear as it was when we first filled it. The fish are acting very happy and looking very healthy, growing like weeds and eating like horses. New babies keep appearing as they get big enough to hang with the herd. There are so many hiding places we never see them until that happens.
The Country Fair was a smashing success for me, despite the torrential rain on Sunday driving us out early. It was really cool hanging with my daughter Lucy, and having some quality time together. Between Friday and Saturday night sales, I think I took in well over $500, a nice shot in the arm. The best part was watching the people admire the work and thank me harder than I could thank them for the sales. I have lots of great stock left over, and may post a pic one of these days.
So the weed wacking goes on, along with major blackberry extractions and drainage projects, so there is no chance of idleness around here. Whenever I get a project done, three more present themselves, so away I go. I guess we'll be heading to SoCal for a whirlwind visit at the end of the month so Barbie can go to Catalina with her sister, brother and daughter for a reunion of the Girl Scout Mariners. On the way back we'll grab the rest of the "parental archives" from the container in Goleta, and perhaps find a place for everything around here (somewhere?) when we get home!
Sea ya next time,
Mike and Barb
1

3

More Days of Summer? 9/9/09 log
I wish there were some great adventures to report, but alas, life around the old Rancho del Koi has been pretty uneventful since last time. We did have a fast trip to California, but it became somber when we attended an ash-scattering on our trip back. One of our dear cruising friends from the Mexico Era passed away suddenly and we said goodbye from the deck of a beautiful 48? yacht out of San Francisco bay. One more reminder that this life doesn?t last forever- better not waste any by not having a good time doing whatever it is we?re doing.
Shortly after our return in early August we drove down to Grants Pass and acquired 250# of beautiful Oregon soapstone from the son of our old supplier. A week later I had a pretty nice batch of my little sculptures made and they sold very well in Portland shops. Came back and made an even larger batch, and they also sold out in a few days around Portland. Cool deal for me, because finally I am getting paid decently for doing something pretty fun and relaxing, extremely green, and on my own schedule. It was a fortunate discovery in slightly tight times, and it?s almost not like work, just something to do for a few hours each day.
On that note, it?s starting to look more and more like our dear Arabella might have to go on the block. We aren?t hurting in any extreme way, but have lost any semblance of financial cushion; and there are too many variables when cruising not to have a backup plan and a way to fund it. Maybe someday we?ll hit the high seas again, but for now we need to trade in our summer home for a daysailer kind of rig.
Today we tested the prototype net I made to corral the fish so they can be dipped out with the hand net. It?s 35? long x 6? deep, has floats on top and weights on the bottom, and worked pretty well until the fish figured out what was happening and made breaks for it. Our big koi actually jumped over the top, while the smaller guys found gaps at the end and underneath. The test was pretty successful, though, and I think we?ll have the bugs worked out soon. We ?re going to need to thin the ranks some due to all the new babies this year, so we?ll plan a big round-up soon. Maybe try BBQ carp, you ask? No, we?ll find good homes for them I?m sure.
Tomorrow I?ll start a new batch of soapstone art, and maybe take some to California in the next week or two when we go back to take care of some family business matters. It?s a work-a-day world?beats the alternative, tho.
Until next time,
Mike and Barb
Almost Thanksgiving 11/21/09
So not a whole lot of exciting things have happened since September, hence the lack of updates here from the desk of the ?ole webcaptain. We have been quietly working on money-making schemes of various types, remembering what it is like to work for things that we want. Our efforts to stimulate the local economy by spending like a drunken sailor have had the desired result, though, since we just heard the recession is now officially over in Oregon. It was lots of work, but we pulled it off. Unfortunately, now we?re pretty tapped out, and the boat is going to have to go. It will be listed at $125K Australian, which would leave us almost even after commissions and taxes are all paid, along with plane fares etc etc etc.
It?s looking like we?ll be heading back downunder mid January as planned, and hopefully returning within a month or so if she sells quickly. There is some family business that will require our presence, and the Koi Ranch has become a full-time operation, what with spring branding, mending fences, and tending the herd.
The blog will continue until the boat sells, and we?ll relate the whole process here, but after that I?m afraid it will be getting pretty boring until we begin our next sailing adventures, perhaps in a trailerable ?yacht? that we can sail upwind at 60 mph on the interstate.
So it?s back to filling out spec sheets, planning for our departure, and preparing to do major cosmetic work once we return to Arabella. Oh, yeah, and trying to figure out how to pay for everything, minor detail.
Seaya next time,
Mike and Barb
I could bore you with stories of life at the Koi Ranch since last entry, but lucky you, you?re spared. I feel like I?ve been hustling full tilt since we?ve been back, and the thought of merely sanding and varnishing, painting and polishing, etc back on the boat was beginning to sound like the resumption of retirement- not bad at all. But- wouldn?t you know it- an offer for Arabella came in from our broker for ?as is, where is? and although it?s about as lowball as it could be, we went for it anyway. The financial hemorrhage had to cease, and my berth fees ran out the end of the month?
Meanwhile, back at the ranch, things have progressed somewhat, and we could finally throw a minor Bacchanalia for our friends to celebrate the Ides of March before we left to drive south. We showed off Buck?s new tile entryway and future slate encrusted cinderblock chimney behind the woodstove downstairs, and it was a fun little cocktail party to kick off Spring/adios Winter.
We had a great whirlwind visit south to SoCal since we?d already planned to be there for our Australia departure. We had rehearsed the visit for so long in our minds, we were able to fit two visits in every day and see multitudes of friends and family in a very short time. We were home yesterday, 10 days after we left, some kind of record no doubt.
Barb just reminded me it was exactly three years ago we set out from Vallarta for the Marquesas?lots of water under the keel since then.
There have been a couple of fish sightings in Lake Lacrimose, so the herd will be emerging from hibernation soon, and the fun will begin trying to thin them out some. Now that we?ve sold the boat I guess we can start a few more projects around here while looking for a suitable trailer-sailor to take to Mexico next season. We really miss Mexico and all our pals down there.
If anyone ever decides to sell their boat after the long ?coconut milk run? across the Pacific, I couldn?t recommend a better broker than Wayne at Yachtdomain. They have offices in Bundy and Brissy and know how to market a yacht from the States.
I am still in shock a little bit since the boat deal just settled a few days ago, but am gamely trying to consider myself ?boatfree? instead of ?boatless?. Hope I start succeeding soon.
Seaya next time,
Mike, Barb and Buddy
So Where is Summer? 6/1/10
It's finally sinking in that The Cruise is over, also known as The Honeymoon, and The Vacation. The thought occurred that since Barb and I got together we've been preparing for, taking a break from, or actively being Vacated. When we got married and set up household in Channel Islands Harbor, we knew it was just temporary until we could climb on Arabella and sail away later that same year, and away we did go, right on schedule, for six years of adventure. When we later had some time to actually hang out at our house here in Yachats, it was always with a departure date hanging there when we knew we'd be gone- back to the floating life.
So reality has changed in a big way, and it's going to be interesting to see if or how we manage to get adapted to dirt-side life (shudder) on a "permanent" basis. Somebody had the genius suggestion to look into local yacht clubs, and sure enough there is a great little club in Newport (Yaquina Bay Yacht Club) where we can at least hang out with some like-minded folks and talk Boat, even if there are few actual cruisers there. I have to get back into Racer Mode, I guess, which can be lots of fun for not too much $$$. They even have some club dinghys to use, but it looks like a wet-suit may be a necessity due to cold bay water temps. And the ever-present danger of flipping one of those little tea cups, as a friend calls them. Hate to picture myself in a wet-suit, tho.
For now I am trying really hard not to look at boats for sale. The income situation is still sub-standard, and if I got a trailer boat I'd need a towing-capable vehicle, and the expense parade begins. Luckily the weather this spring has been so cold, wet, and generally miserable around here that I find myself giving thanks every time I didn't buy a boat.
I'm going to try to reactivate my lapsed Captain's ticket and try to do some deliveries this summer, maybe do some teaching, who knows. I'll let you know as soon as I do!
Happy Sails,
Mike and Barb, ex-cruisers
Summer's Flying Now 8/9/10
Yeah, it finally got here around the Fourth of July, and has been a real beauty so far. Even here at Fog Central aka Yachats, we've had sunny days, warm temps, and NO RAIN since then, like somebody just turned off the shower or something. We're certainly not complaining, but my poor koi pond became as green as pea soup, and since returning from the Oregon Country Fair the fish have been hiding and not hungry. This of course has me very upset and I have ordered a bunch of new stuff to improve the water circulation and hopefully clear things up so I can see if my fishy pals are alive or dead.
The really big news is the acquisition of a beautiful 30 year old Catalina Capri 25, which came to us despite all my efforts to remain boat-less for awhile longer. Our great cruising friends Bill and Karen from Miela had bought her a few years ago to feed their sailing jones when not aboard their beautiful Moody 45, and as it so happened, didn't really use her all that much. Half jokingly, I told Bill I'd buy her if he delivered her to me from Chico, CA, where he lives, and he called my bluff! I'm not at all sorry, though I will be strapped financially (again) trying to buy all the goodies and new sails she needs, not to mention paying for a slip at the beautiful Embarcadero Resort to keep her near the yacht club. We've had her out a few times so far, a fun trip upriver to Toledo and a wet Wednesday race last week. So far she seems like a really fun, fast little boat, and I'm sure we'll remain really glad we ended up with her.
Besides the pond drama and the boat fun, I've had a busy time with my soapstone business and garden work, and it all has added up to a summer beginning to look like a blur. More later...
What a Great Summer it Was 10/13/10
If you're wondering why it's taken me so long to post any updates here, see the post below for the arrival announcement of the new family member, or GRP mistress, however you want to look at it/her. Suddenly my free time evaporated and life became a series of Wednesday night sails on beautiful Yaquina Bay. Getting the bugs worked out of the boat, my new crew, and my own rusty sailing ability has been the main focus, but occasionally some work does get done here at Koi Acre. With the help of Alex, Twin Son #1 (or is he #2?) a framework was built for the long-awaited fence across the front of the property, and Buck came along after like a super-star and applied fence boards that he bought himself. Everyone seems to like the finished project; complements flow freely. I know I really like not having to look at the road anymore.
So back to the boat. We came in late to the Summer Series and tried to stay out of everyone's way at first, being the new kids on the block. Though the boat came without a spinnaker or a halyard to hoist one with, we did discover we could sail along downwind with the other boats, even when they flew theirs. This was great to find out, but we also found out we don't point as high as most of them, so we need that downwind advantage. As the series drew to a close I finally decided on a new name, since nobody knew how to pronounce "Hejira" and I also got tired of telling everyone what it meant. It was a toss up between Grin, Grins, and Grinner, but something had to go with the big yellow happy-face flag I bought, and it finally was decided it would be Grinner because it rhymes with winner, dinner, and spinner (as in penalty turns for racing fouls and violations). Since there are several makers of vinyl boat lettering who sponsor my web site, it was just a matter of figuring out which one to use. I don't want to bore you with the details of my selection process, but I will tell you the one I selected, Java Signs has great service, does great work, and ships out your lettering rolled up in a sandwich of backing paper, so all you do is peel off the "boat side" and stick the whole name on at once-- maintaining the spacing and positioning of the individual letters-- then peel off the top translucent layer when you're happy with the location. I made the "Grinner" like a smile (you create the whole thing on their web site) and it came out great with an outline and shadow. It looks three dimensional. Perhaps I should have made it larger, but it will be no big deal to replace sometime. I also asked them to reproduce the Cheshire Cat from Alice in Wonderland for a decal to put on the stern, and they also did a killer job with that. The price for everything was very reasonable, and I can't recommend them highly enough.
So here's the punch-line to this rambling story: I did the de-naming/renaming ceremony right before the first race of the Fall Series, and guess what? Right! She lived up to her new name and proceeded to sail past the whole fleet and win the first sailboat race I've ever won. It may have only been a beer-can Wednesday race, but it felt like the America's Cup to me. Let's hope it's the start of a trend.
Last weekend was the official end of the racing season in the form of YBYC's Columbus Day Regatta. There were boats from all over Oregon there, but mostly they came from Eugene, and these guys are really serious racers. It was going to be a challenge racing against them, and the weather didn't help when it blew up to 20-35 with gusts above 40 on Saturday and was extremely light and shifty Sunday with a huge tidal shift creating huge current in the bay. The stress of "survival sailing" Saturday became the stress of not being able to get to the start or the marks on Sunday as the current had us sliding backwards as much as making any headway. Needless to say we didn't bring home any hardware in the form of trophies, but we only missed fourth place overall by three points. Oh well, there's always next year.
So the koi have all gone into hibernation as the water in the pond has cooled down close to 50 F, and the yard is looking the best it's ever looked thanks to Buck buying a nice riding mower with his real estate earnings. Much more fun than pushing the string trimmer around for hours. Barb flew down to SoCal to visit family and friends and I'll be driving down in a couple of weeks to fetch her. Hope all is well in your world, and this will be the Webcaptain signing off for now.
Here Come the Holidaze 11/13/10
So there we were, enjoying the Indian Summer, and next thing we knew, it was almost Thanksgiving. Funny how everything seems to speed up as we get older...or maybe time just flies when you're having fun?
Anyway, not too much has happened except a fun quick trip down south to pick up Barbie. Made some new business connections on the way down as well as on the return trip, visited friends and family including an old high school pal I hadn't seen in 40 years, and tasted lots of great wine on the drive back up Highway 101. The traffic was easy, and the normally crazy areas like Newport Beach, Santa Barbara and Santa Cruz were practically deserted. All in all it was a great time to be on the road, with beautiful Fall foliage as an extra bonus.
We're still looking for somebody to rent the last two big M-1 spaces in Goleta, but I have every confidence it will happen soon. Some business that needs a big shop or warehouse and a separate showroom/office area would be ideal. Just putting that out into the universe...
The yacht club seems to want to elect me Rear Commodore at the meeting next week, putting me in line for Commodore in two more years. This will be an honor I'm not sure I deserve, but I will try to serve to the best of my ability. The club is on a nice upswing, and it will be rewarding to help the growth continue.
Oh yeah, almost forgot, I found a used spinnaker for Grinner at Minneys that is close to class legal, and now I can't wait for good sailing weather to get out there and try to fly it. Actually I already put it up in the slip, on a light air day. It will add some excitement to those beercan races, and give more jobs for crew to help with.
The camera has been on strike lately, or the photographer has, or something, because we can't seem to get any photos taken...maybe next time. Until then, fair winds and fine feasting to ye!
Tw
enty-Eleven is Here 01/04/11
A new year always seems so full of possibilities. This might be the year things finally come together, we tell ourselves, and we can stop making all the old mistakes, dealing with the old problems, and watching the movie of our life going through the same old plotlines. And why not? There is nothing to stop us from breaking out of the old mold and reinventing ourselves if we really want to.
As a "returned cruiser", however, things look a bit different. It would be all too easy to just sit back and say "been there, done that, don't need another t-shirt", etc. and just let the adventurous life fade away replaced with boring normality. Lately, however, this writer has decided that course has no appeal, and a new adventure must soon be created to keep from growing barnacles on the brain . The adventure doesn't have to begin immediately, and indeed needs it's fair share of planning, re-planning, and preparation to work, but at least it's a goal and a destination, and something to dream about in the midst of mundane living.
For awhile, the new plan was to acquire a suitable pocket cruiser and towing vehicle and go mobile around North America, camping and sailing as we went. After exploring Mexico and the South Pacific, it seemed like a good idea to check out our own backyard, so to speak. Ladysailor has been to the East Coast, but your webcaptain hasn't been east of Chicago or south of northern Arkansas. It sounded like fun to be able to splash our yachtlet into the Chesapeake or LIS, maybe a Great Lake or two, and on down into Florida waters, all the while enjoying reciprocal yacht clubs and meeting new friends. It still sounds like a fun plan, but with gas prices rising like they are...the whole idea of living "free as the wind" becomes more appealing every day. Ultimately I think we would always be missing the good ole days of living off the grid, anchored in deserted coves eating fresh-caught fish as the solar panels and wind generator charged our batteries, with the simple pleasures of living close to nature for our daily entertainment.
Of course we are locked into at least another couple of years staying close to home since we've taken on the responsibilities of involvement with our local yacht club, and finances aren't what they need to be anyway, but that's OK, as long as the Plan is still there as a source of inspiration and hope for the future. Meanwhile I'll be improving my sailing skills out there on Wednesday night beercan races, and who knows, maybe start winning more often.
The internal debate about what form the next adventure will take, and where it will take us, is most likely just a personal pipedream since the Admiral seems very comfortable being Home on the Range here at Koi Acre, but I'll remain foolishly optimistic since I can't help it. I can only hope she'll get bored with comfort after awhile, and I can entice her with promises of endless warm tradewinds once again.
I hope you all have a great Twenty-Eleven and enjoy dreaming big dreams if not living the Big Life!
Fresh, Fair, and Warm Breezes,
Over Halfway Through the Year 7/31/11
I knew I was busy, but didn?t realize I haven?t checked in here since January?oops. So what?s been happening since then? Hmmmm?..let?s see?.well, I started the long process of regaining my Captain?s License in February, beginning with getting my TWIC card which is a requirement before going any further. Yacht club stuff kicked off with the Wine and Seafood fest in Newport, where we were bartenders for a couple of days, then we drove to LA the first of March for sister Linda?s big Seven-O party, before flying to Nashville to meet little Ruby, the cutest little granddaughter anyone ever saw. We had a really great visit with Lucy and Dave, and managed to connect briefly with my old pal Donald from North Carolina while we were kind of in the neighborhood. April was a little quiet, thank you, and then May had me running around like a crazy guy getting ready for teaching sailing all summer. Also that?s about when 27 y.o. Captain Julia came floating in on her highly modified CT 41 Rowena, with plans to sail to Vanuatu in cyclone season. We put on a fundraiser for her non-profit Live Ocean and tried to talk her into hanging around the West Coast, which she finally decided to do. By June there was teaching Tuesdays and Thursdays, racing Wednesdays, and starting to think I was living in Newport for the amount of time I was spending there. All this time chipping away at all the various requirements for my captain?s ticket, which finally wound up in early July before the Oregon Country Fair. Barb was abducted by her Mom and Sister for three week?s road tripping all over the Northwest, and finally returned towards the end of the month, and that?s about all the big news I can recall.
Now I?m just waiting for the Coast Guard to approve my application, go in to take the all-day exam, and get that dang credential thing back on my wall!
The sailing school has been going great, though, and once I get the facilities inspected I can start to actually certify my students. The only problem is, I?m sailing so much these days it?s almost starting to be like work! Never thought I?d see the day?
Anyway, life keeps rolling along here in Yachats, the fish are happy in the pond, the lawn is looking good, there?s a new 10 gal. batch of beer going, and next week Alex will be here to help with major projects. I?ll try to keep this little commentary up a little better in the future!
Cheers
Mike, Barb, Buddy the Wonder Dog, Steve the Chihuahua, and Shy the Big Labrador Girl
2012 is Here, Bring on the End of Daze. 1/4/12 log
So it would appear that this log has now become a bi-yearly offering. It must be because either life is too dull to report, or I've become too lazy to report about it, not sure right now.
The time since the end of July when your webcapt last laid fingers to keyboard in this space has been pretty mundane. Sailing lessons went almost into October as it turned out, several guys called who had bought boats and needed some coaching on sailing them. When the weather became too crummy to continue sailing, the workshop came to life all November, and lots of product was made for our trip to Cal in December. Grinner took the first-place honors for the Fall Series once again, and hopefully this year the schedule will be modified so that might actually mean something.
So December 1 came along, and Ladysailor and I hit the road for SoCal, where a legal wrangle was awaiting us, trying to collect a bunch of $ we improperly were charged a few years ago. Luck was with us, we prevailed, and had the extra bonus of being in SoCal to spend the Christmas holiday with Ladysailor's family for the first time in several years. It was also nice to see my peeps who still live down that way as well. We made it home safe a few days before New Years, and had the pleasure of catching the last performance of the DeSoto band at the Embarcadero New Years Eve.
Grinner wished she could have made the Frostbite sail New Years Day, but she's sitting in the driveway awaiting repairs before she gets to sail anywhere! The weather was perfect, if a bit chilly, by the way.
This year your webcapt is Commodore of Vice at YBYC, so it will be another busy one at the club, as well as Ladysailor being the House Queen once again. Still waiting for the USCG to decide if I am going to regain my Captain's Licence. Seems as soon as I provide one expensive set of requirements they want two more, so discouragement is beginning to set in. Stay tuned for further developments.
Hope you have a great New Year and the end of Daze is fun for all!